Blog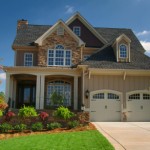 For those of you that are in the process of selling your house, first impressions go a long way. The outside of your home is the first thing potential home buyers will see so it's important to make it look as visually appealing as possible. Below are a few inexpensive projects you can complete that will provide your home with instant curb appeal:
Paint the front door – Giving your front door a blast of color can provide excellent curb appeal. Your choice of color is very important so it might be a good idea to get the advice of a professional.
Outdoor lighting – Having good outdoor lighting is a huge plus. Consider placing lighting along the sidewalks or driveway. Low-voltage lighting can dramatically improve your home's nighttime curb appeal, and by lighting walkways and dark corners, it can improve safety and security as well.
New mailbox – A new mailbox can easily add a little curb appeal.  Hanging plants or planting flowers around the mailbox is a nice touch and can help to make the mailbox stand out.
Maintain the yard – Plant a tree and cut back large or overgrown bushes.
Replace house numbers – A lot of houses have old, faded or rusted house numbers. This is a small detail that is often overlooked. Installing new numbers can make a big difference.
Completing the projects above can help provide instant curb appeal to your home. If you don't have time to get these projects done yourself, you can always contact Priority One Home Repair at (623) 505-7282. We are happy to help!